Genesta Acquires 80,000 sqm Logistics in Sweden
Enköping, Sweden
24/04/22
The facility is larger than 11 football fields and has been designed to offer top quality building specifications to the most demanding occupiers. The building is flexible and can be subdivided into two, three or four units. It allows Genesta to provide top modern spaces to a broad range of tenants

- Emma Stenlund, Genesta
Genesta is expanding its logistics portfolio and has today agreed to acquire Stenvreten 8:30, a logistics property of 80,000 sqm under construction located in Enköping, 70 km west of Stockholm. It is an off-market transaction with Logistic Contractor, part of the Wästbygg Group.

- The logistics market in the Nordics remains strong and we are excited to make another acquisition in this sector. The transaction secures a high-quality asset with substantial value creation potential, says David Neil, CEO of Genesta.
Flexibility in one of Sweden´s best locations
The region of Enköping is ranked as one of the best logistics locations in Sweden. From here traffic reaches Stockholm, Uppsala and Västerås within one hour. The property benefits from easy access to the E18 highway and road 55, offering companies excellent transport links to the wider Nordic region and Europe.
The building will have several green warehouse design features such as rooftop solar panels, high-efficiency roofing and walls, LED-lighting and it will be certified in accordance with BREEAM In-use with the ambition to achieve level Excellent.
With an estimated lettable area of slightly more than 80,000 sqm the building provides sustainable, flexible and efficient logistics facilities.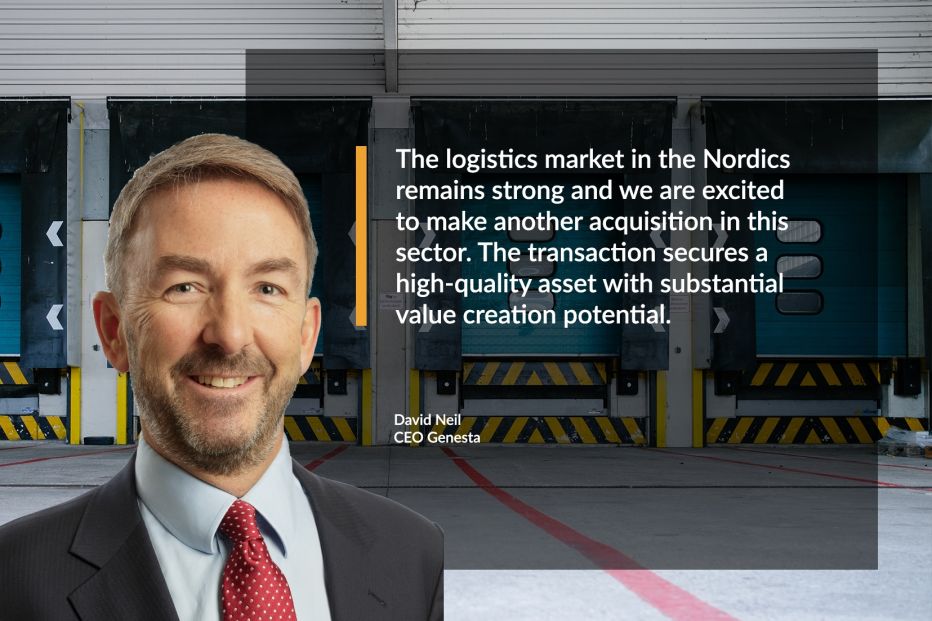 Genesta is looking forward to initiating discussions with potential occupiers. The construction is expected to be completed during fall 2023.
- We are very pleased with the agreement with Logistic Contractor and look forward to our future collaboration. We look forward to unlocking the value in this great product by offering modern, flexible and sustainable premises to successful companies, says David Neil.

GNRE Fund III
GNRE Fund III's strategy is to provide institutional investors with exposure to value add office property investments in Stockholm, Copenhagen, Helsinki and Oslo. The fund also invests in logistics and retail properties in large metropolitan areas in the Nordic region.
About Genesta
Genesta is a fund and investment manager that specializes in commercial real estate in the four Nordic countries. We invest in residential, office, retail and logistics assets and have offices in Stockholm, Helsinki, Copenhagen and Luxembourg.